| | |
| --- | --- |
| SPSS On-Line Training Workshop | |



In this Tutorial:

Options is for personalizing the SPSS program.

The changes you enter here take effect the next time you do a procedure, or the next time you open SPSS, depending on the option that is chosen. These options remain in effect until they are changed.

Some of the options you can change include:

| | |
| --- | --- |
| | Editing the use of the Journal File |
| | Output as pivot tables or text files |
| | The appearance of your output |
| | How variable lists are displayed |
| | How data is formatted |

The following clip goes over some of the options you can choose. You are encouraged to experiment with the others.
In this on-line workshop, you will find many movie clips. Each movie clip will demonstrate some specific usage of SPSS.
The Options Dialog Box: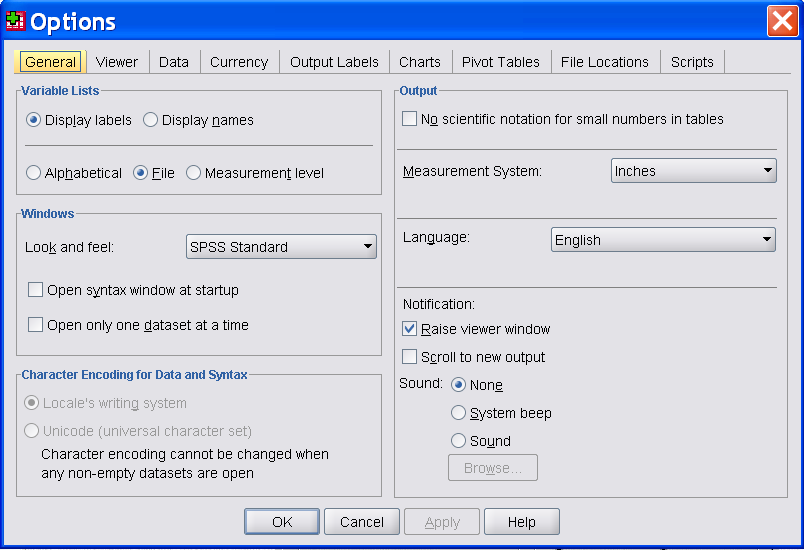 Use of Journal file to create a syntax program file
The journal file keeps a log of the syntax of all procedures the user has performed in SPSS sessions. This is beneficial if you want to see the procedures you have run, or wish to rerun a procedure. The following movie clip demonstrate several methods of creating SPSS syntax files, which include how to use the Journal file to create a syntax file. The data used in this clip is the mathematics assessment data set.

click here to watch: Syntax Editor and Journal File


&copyThis online SPSS Training Workshop is developed by Dr Carl Lee, Dr Felix Famoye and student assistants Barbara Shelden and Albert Brown , Department of Mathematics, Central Michigan University. All rights reserved.
&copy